Localize your website and
content for the Japanese market
What works in other markets may not work in Japan.
Localize effectively with support from Citrus Japan in Tokyo.
Our work

(Japanese language only)
Localization
Website and content localization

Depend on our professionals in Tokyo to make your website and content attractive and engaging to your target in Japan. Our multicultural team of web, translation, copywriting, design and marketing professionals can help you achieve your goals.

Why Citrus Japan?

We're based in Tokyo, know the Japanese market like the back of our hand and provide customer support in English. For 40 years in advertising and 20 years in web production, we've brought localized success to leading global brands.

Translation and copywriting

Our professional in-house, Trados- capable translators and veteran copywriters have vast experience in localizing copy. Through the support of bilingual coordinators and Japanese marketers, we deliver Japanese copy with cultural relevance and impact.
More
Japanese market
The challenge of the Japanese market
Japanese consumers have strong cultural preferences in wording, design and functionality. To succeed in Japan, websites and content must be localized by experienced Japanese professionals who know the market and can give your message impact.
Services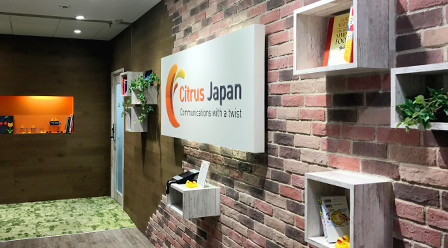 Consultation in English
Analysis and testing by native Japanese
UI, UX and design for multiple devices
Localized translation and copywriting
Localization of websites and content
Marketing and other services